The stakeholder consultation continued in Conakry from 27 February to 1 March. ArboRise, GUIDRE and South Pole project managers were able to exchange with the environmental consultancy Biotope Guinée, the IUCN representative for Guinea and the head of CECI.
The most important meeting took place with Mrs. Safiatou Diallo, Minister of Environment and Sustainable Development of the Republic of Guinea, and the members of her cabinet: Mr. Karim Kourouma, Secretary General, Mr. Aly Traoré, Head of Cabinet, and Mr. Jean-Louis Pelletier. Aly Traoré, Head of Cabinet, Ms. Oumou Doumbouya and Ms. Adama Diabaté, Heads of the Climate Risk Mitigation Department, Mr. Mohamed Fofana, National Director of Water and Forests and Mr. Pierre Lamah, Guinea's Designated National Authority for the Green Climate Fund. The MEDD consultation was essential to strengthen collaborative links with the national authorities of the Transitional Government. It had been prepared in advance with all the services concerned, thanks to the organisation of Ms Adama Diabaté.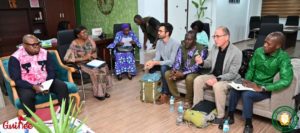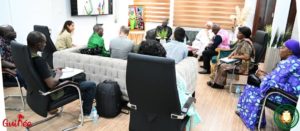 ArboRise would like to thank Her Excellency the Minister, and the members of her cabinet for the attention shown to the project and the repeated wish to intensify the collaboration. It is indeed one of arboRise's statutory aims to share the lessons of its experiences and we will not fail to provide the Guinean authorities with the desired support. This will include, firstly, the contribution of the arboRise project to the Nationally Determined Contributions, in accordance with the Paris Agreements, secondly, the contribution of arboRise in terms of green jobs and reforested area, and finally, the training needed by the Directorate of Water and Forests to strengthen the impact of its reforestation programmes.
It is for this last purpose that the three partners finally met personally with Mr Pierre Lamah, in his capacity as Focal Point of the Green Climate Fund, to follow up on our request for financial support from the Green Fund.